My name is Pia Lähteenmäki and I started my company Piaeliina in 2002. I create handmade lampwork glass beads for jewellery designers, collectors and bead lovers.
My beads are made from Effetre (Moretti), Vetrofond (Murano), CIM, Reichenbach and Double Helix glass. Each one is carefully annealed in a kiln for lasting durability. I also use fine silver to paint beautiful images of pets, angels and other motifs on my beads. You can order a custom-made bead with a picture of your beloved pet on it.
If you make jewellery or use glass beads in other types of products, or if you simply want some unique, durable and beautiful beads, have a look at my selection and get in touch. You can order glass beads from my existing selection or have your unique beads tailor-made according to your wishes.
Take a look at my gallery – the pictures speak for themselves!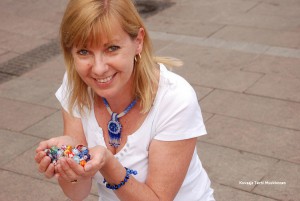 My company is VAT registered; my VAT number is FI17732347.
Contact information: email pia.piaeliina@gmail.com
phone +358 50 5707691
You can also use the contact form below.
[gravityform id=4 title=false description=false ajax=true]